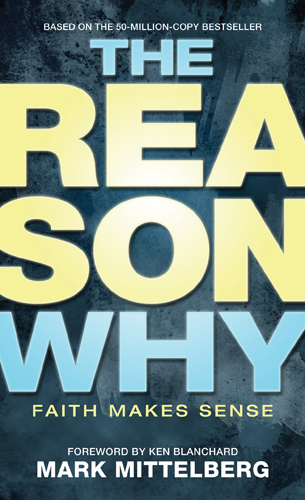 What if all your days here on earth were merely preparation for the life that comes next, the REAL one? This is one of the first questions that Mark Mittelberg asks in The Reason Why Faith Makes Sense, his updated and expanded version of the original classic by Robert A. Laidlaw. In six short chapters, he addresses perplexing questions from "Is there a God" to "What am I supposed to do about it?" He uses everyday life illustrations that anyone can relate to in order to help them grasp the answers to some baffling questions.
Within each of the six major questions, other questions that you might not venture to ask out loud are also considered. Some of them are thought-provoking questions that my children have asked me recently, like "Why did Jesus have to die? Couldn't God just forgive and forget without punishment, like He asks us to do?" Just the other day, my 9th grader asked, "Why didn't God just make us so that we would all love Him and never sin?" Mark Mittelberg answers these questions simply without being simplistic.
The book is easy to read and tackles the answers with clarity and ease. I highly recommend it for anyone undecided about the existence of God or dealing with nagging doubts about their faith. I also recommend this book for those who are firm in their faith but want to be able to answer these questions for themselves or others in a clear and concise manner. I am going to add this book to my teenagers' reading list this summer and recommend it to my agnostic friend.
I received a complimentary copy of this book from Tyndale House Publishers in exchange for a review. The opinions I have expressed are my own. I am disclosing this in accordance with the Federal Trade Commission.